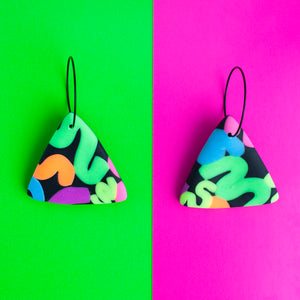 Status Collection - colourful neon hoop earrings! A rounded triangle with bright neon squiggles on a black base! 
Featuring black hypoallergenic stainless steel hoops.

Bright. bold and colourful! 

Lightweight, handcrafted and one of a kind!
Measurements: Hoop diameter is 2.5cm, Triangle length is 3.5cm and the width at the widest part is 3.5cm (for size reference click here)

Please note: due to variations in some phone screens and computer monitors, the colour may vary slightly from the photographs.