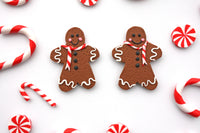 BRIGHT, BOLD AND COLOURFUL JEWELLERY MADE FOR PEOPLE WITH SENSITIVE SKIN
Luxury handcrafted statement jewellery made with lightweight polymer clay and resin. All findings are 925 sterling silver, silver plated or stainless steel.
All jewellery is designed and created by Vicky Takooree, from her home studio, in Bristol, UK.
Shop all handcrafted jewellery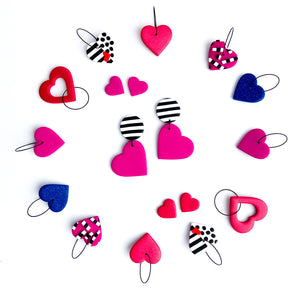 ITS ALL ABOUT THE HOOPS!
Prepare to be dazzled by this stunning array of hoops! Bright, bold and colourful handcrafted designs including hearts, glitter, luxurious resin and textured polymer clay pieces. This collection includes either sterling silver or black hypoallergenic stainless-steel hoops. I have a nickel allergy and both types of hoops I can wear all day comfortably.
SHOP HOOPS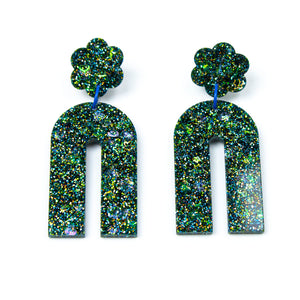 STUNNING STATEMENT DANGLES
Luxurious handcrafted statement earrings made by Pink Lime Mango! Handmade for you in Bristol, UK. I create colourful and unique pieces of wearable art which are sensitive skin friendly. The beautiful Teal Arches in the photo are made with 925 sterling silver posts for your comfort. Tap the link below to view more wonderful dangle earrings!
SHOP DANGLES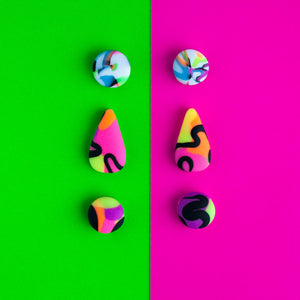 STRIKING STUDS
A sizzling selection of colourful statement studs. Perfect for those of you that prefer smaller sized earrings. The triple pack of mini studs shown in the picture has sterling silver posts and backs. An ideal Christmas gift because it gives your loved one a choice of three handcrafted earrings to wear! Click the link below to view the studs collection.
Shop studs
UPCOMING EVENTS
I am so excited to have been selected for this year's Made in Bristol Gift Fair at Bristol Beacon. This unique event showcases the best of Bristol's creativity. With up to 200 stalls this is the perfect place to get all your Christmas shopping done in one go!
Reviews
Received my order today, so pleased. Beautifully gift wrapped with festive paper and tape. My earrings are fantastic, lovely quality. I can't wait to wear them. Definitely recommend Pink Lime Mango as a treat for yourself or as a gift.

Helen
I love the bright vibrant colours and unique design!

Angel
I was not expecting something so professional and beautifully presented - the packaging, branding, wrapping, and presentation really built the sense of excitement for me as I opened it. I love the earrings! They are gorgeous and I will definitely be ordering again. 

Donna
My friend bought me a pair of your earrings at the last market. It's the first time I've worn earrings in a long time and they've not made my ears sore. I'd been wearing them all day with no irritation. So I've come back to buy more!

Customer at Corsham Creative Market

RESPONSIBLE MAKING
Being a conscientious business owner, I'm passionate about running my jewellery company in an environmentally-friendly way. Last year, my commitment to sustainability was recognised when awarded 'Sustainable Impact Champion' accreditation - plus I completed an Organisational Sustainability Bootcamp too! For more info on how I strive for responsibility as part of my ethos and operations, click below.
SUSTAINABILITY PAGE
Colourful jewellery gift ideas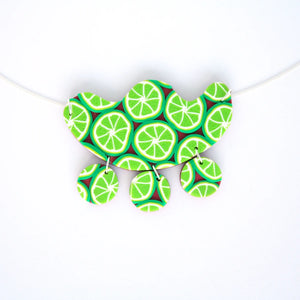 ONE OF A KIND HANDCRAFTED NECKLACE MADE BY PINK LIME MANGO
A unique handcrafted necklace with a stunning lime design. Made with vibrant and lightweight polymer clay. Completed with a sterling silver chain. Designed and created by Bristol small business Pink Lime Mango.
Shop Pink Lime Mango Necklaces
PINK LIME MANGO CIRCLE HOOPS
Absolutely gorgeous Pink Lime Mango earrings featuring a colourful lime design with orange and pink components and sterling silver hoops. These beauties would make a perfect gift for a special occasion.
Tell me more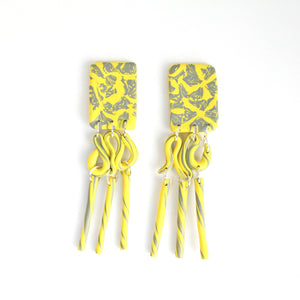 HOPE DANGLES IN YELLOW AND GREY
Such a unique pair of dangle earrings! Designed and handcrafted by Bristol artist and jeweller Vicky Takooree. The Hope dangles are made with lightweight polymer clay and have silver plated posts and backs.
Shop now for Hope Dangles