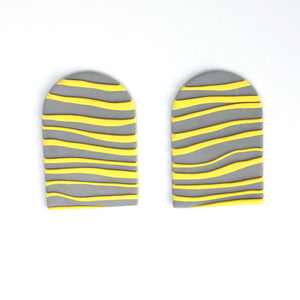 These are the stunning Hope Arches. Waves of bright yellow against a grey background. I love the raised texture of these pieces. So tactile!
The fronts of the earrings have yellow waves which are slightly raised against the grey background. In contrast, the backs of the earrings are velvety soft against your skin.
A truly individual creation handcrafted just for you!
Each design is unique and one of a kind!
Featuring silver plated earring posts
Surprisingly lightweight for a statement piece!
Measurements: 6cm length and 4cm width