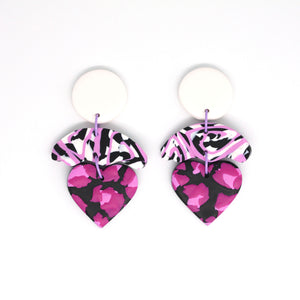 A white stud top, a gorgeously patterned black, white and pink moth wing shape plus a beautiful black and pink heart! Detailed with lilac jump rings! Stunning and unique!
Featuring silver plated stud posts and comfort backs.

Lightweight, handcrafted and one of a kind!
Measurements: Length is 7cm and the width at the widest part is 4.5cm
Please note: due to variations in some phone screens and computer monitors, the colour may vary slightly from the photographs.