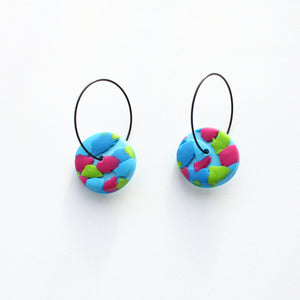 A unique, joyful and vibrant earring design! Named after Eric Carle, author and illustrator of the beautiful children's book The Very Hungry Caterpillar! My favourite book to read both as a child and as a mum!
Abstract blue, green and pink detailing on a small light blue circular base. Styled with contemporary stainless steel black hoops. Lightweight, handcrafted and one of a kind!
Measurements: Hoop diameter is 2.5cm and the circle diameter is 2cm
Please note: due to variations in some phone screens and computer monitors, the colour may vary slightly from the photographs.