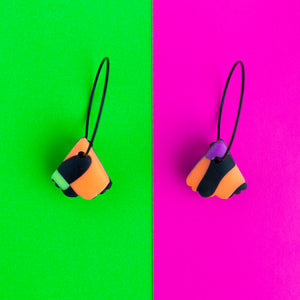 Unique handcrafted hoops from the Status Collection! Black hoops with tiny bright colourful abstract neon and black mothwings! They are a one off design and there is only one pair available!
Featuring black hypoallergenic stainless steel hoops!

Bright. bold and colourful! 

Lightweight, handcrafted and one of a kind!
Measurements: hoop diameter is 2.5cm

Please note: due to variations in some phone screens and computer monitors, the colour may vary slightly from the photographs.